الأحد، 31 يوليو 2016


Planning an Off-Grid Electric System
Off-grid solar systems operate from the stored energy in a battery bank. Solar panels are used to keep a battery bank charged on a daily basis. Some part of the cabin or tiny house electricity loads, during the daytime, will usually end up running directly off the array via the electricity passing across the battery connectors. At night, the inverter is pulling directly off the batteries. Your solar system has to be sized to support your daily loads and replace the stored energy pulled from the batteries on a daily basis.
Defining Your Load
The first step in determining how many solar panels you will need or how big your inverter should be is to figure out how many watts of power you need per day. Since you determine what you are trying to run, and how long each day you want to run the items, the first place you have to start, after reducing your loads, is to determine your daily energy budge or daily loads. You are going to want to reduce your daily energy demands first before you start to calculate your loads because it is cheaper to save energy than to make energy.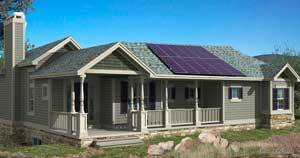 All the Parts Needed; Looking at The Whole System
A typical stand-alone system consists of solar panels usually connected in series of 2 or 3 which product DC electricity from the sun. The solar panels are connected to a charge controller which controls the pace at which batteries are recharged which is connected a 24VDC or 48VDC battery bank. You will then need an off-grid inverter to convert the DC (Direct Current) electricity stored in the battery bank to AC (Alternating Current) electricity which is more commonly used in home appliances. (Click on the 2nd sub-tab above "Planning Design & Installation Tips" to learn more.)
Where to Get Started; Cheaper to Save Energy Than to Make Energy
The trick to off-grid living is energy conservation and efficiency. The starting point in planning your system is to first reduce demand. (Need Tips? Click on the 3rd sub-tab above "Off-Grid Living Energy Conservation") Most people in America can easily cut their electricity consumption in half. Reducing your family's energy consumption by conserving and investing in watt saving home lights and efficient appliances means you are putting your money in your pocket and can substantially reduce the amount of off-grid equipment and or battery bank. As you begin your journey towards freedom from the grid, start by conserving as much as possible first. Its always cheaper to save electricity than to generate electricity. Most off-grid generation is used for lighting, appliances like refrigerators and water pumping. Lighting is the easiest to tackle. Don't stop at compact florescent lights, go all the way to LED which can use 1/6th the watt consumption of compact florescent lighting.
The BIG Questions You Need to Answer First:
List your loads. How many watts per day does your household consume? The most important challenge in an off-grid system is to balance your energy consumption with your supply of energy required. You cannot begin to do that without first knowing how much energy you need each day.
IE: 5 - 13 watt light bulbs X 5 hours per day = 65 watts. 18 CF refrigerator @ 5 amps x 120VAC = 600 watts x 6 hours per day = 3,600 watts.
THIS IS IMPORTANT:
When we say "list your loads", we mean all your loads. From the cell phone chargers to a hair dryer. Need Help? If you download the Excel worksheet you will only have to indicate how much of each piece of equipment you have and how long your run it.
Daily energy budget? It is NOT based on a homes sq. ft. It is NOT based on how many people are living in the house. It is based on the equipment or appliances you want to run and how long each day you typically run them. It does not get more individual than that. The amount of energy you and your family consumes each day will vary among individuals habits and personal choices.
How many days of limited sun do you want to be able to run? (Days of Autonomy) Typical is a minimum of 3 day to 5 days. The more days, the more energy storage required or the bigger the battery bank needed.
What is the largest load you expect to run (Watts / Amps / Volts IE: 240V Well Pump @ 9.5 Amps)
Click on the sub-tab above "Planning Design & Installation Tips" directly below the buySafe emblem to learn more
https://www.bluepacificsolar.com/off-grid.html
مرسلة بواسطة

سالم بنموسى
في 3:16:00 ص
روابط هذه الرسالة

What's the difference between watts and watt hours?
Watt and watt hours are often interchanged, misused and can be just plain confusing. A watt (W) is a measurement of power which is the rate of electricity that is being generated or consumed. A watt hour (wh) is the same energy over a period of time. A light bulb rated at 20 watts, in 1 hour it will consume 20 wh of energy, and in 5 hours the same light bulb will consume 100 wh of energy. 1 watt hour (wh) = 1 watt of power supplied for 1 hour. Think of watts (w) as the speed you're running and watt-hours (wh) as the distance you ran. Ok professor, need to go deeper? One joule per second is a measurement of the rate of power flowing. 1 watt is a unit of energy equal to the power of one watt operating for one hour or 3,600 joule's.
مرسلة بواسطة

سالم بنموسى
في 3:11:00 ص
روابط هذه الرسالة

السبت، 30 يوليو 2016
Online PROFESSIONAL PV SOFTWARE
POLYSUN Online
Plan and calculate your PV installations easily in a few steps.
Basic simulation is free, optionnal features can be purchased.
EASYSOLAR
EasySolar is a fully functional online platform compatible with advanced EasySolar mobile apps for iOS or Android, easy to use in the office or in the field.
EasySolar can significantly increase your solar sales thanks to:
- better work performance during site visit thanks to measurement tools
- possibility of the project presentation even during the first meeting with client on tablet or smartphone
- better visualisation of PV designs for your client thanks to three design methods
- clear and detailed price quote section and financial analysis
- better cooperation between solar pros thanks to cloud technology and faster projects management
- fast preparation of the project, even in 5 minutes
- detailed customized proposals with company logo, colours and selected sections
"EasySolar app provides great help in preparation of high quality proposals - not only it boosts customer acquisition but also generates time and money savings for solar companies."
 PV-magazine.
The price of Easy Solar app starts from 20 euros a month.
FOCUS SOLAR
Focus solar is a satellite-based yield predictor with worldwide solar radiation calculated from MSG, GOES, and MTSAT images by the Heliosat 3 method. Data are available from 2005 onwards, including near real-time data at a resolution of 1 km2.
SOLARDESIGNTOOL
This software available online allows to create PV system designs and accurate panel layouts.
Generate customer design options in minutes, complete with PDF system datasheet, including data from electrical specifications to array layout diagrams.
The SolarCAD feature help to define the Installation area for the solar project only in a few minutes : accurate dimensions, unlimited obstructions, define setbacks, rows, orientation.
The array layout engine quickly determines the most optimal panel layout for the installation area to maximize its solar potential.
The web-based Solar Electric Design platform replaces countless hours of monotonous calculator-and-pen guesswork, with a streamlined user interface that creates optimal systems based on particular requirements.
There is a free version for one month (but you have to give your credit card number), and an expert version with a monthly fee
PVANALYTICS - PVA
PVA provides users the ability to rapidly size grid-tied photovoltaic (PV) systems and simulate accurate hour-by-hour energy production from anywhere on any device. It integrates proprietary cloud technology with NREL's PVWatts algorithm and up-to-date PV equipment data from the California Energy Commission (CEC). Precision and detail are achieved in a dynamic and user-friendly online environment, making PVA the perfect tool for solar industry professionals.
This URL seems to not respond anymore.
SOLARGIS - PVPLANNER
Simulation tool forplanning and optimisation of photovoltaic systems using climate and geographic data at high temporal and spatial resolution and newgeneration high performance algorithms.
SOLARMODEL
Solarmodel is an internet platform for designing solar PV installation and for evaluating investment in photovoltaic systems. As an online software, it doesn't require any installation, it works on all operating systems and can be easily accessed using web browsers.
The software is based on WebGL technology therefore Google Chrome is currently the most compatible web browser for this technology.
Solarmodel is currently available in English, Swedish and Polish language.
Full unlimited access to solarmodel.com is free of charge for the first 30 days. After then access it based on a subscription model.
i-Pals WEB
i-Pals WEB is PV simulation software which includes multiple functions as following ;designing layout, designing strings, making estimation, simulating power generation and shadow deterioration, comparing different projects.
-Obvious comparison of different installation areas.
-High customisability; flexible and speedy.
-All-in-One software which includes design tool and simulation tool.
-Easy Unitary management of projects.
-Detailed settings for module layouts, strings designs.
-Language : english, japanese.
http://photovoltaic-software.com/online-professional.php
مرسلة بواسطة

سالم بنموسى
في 12:23:00 م
روابط هذه الرسالة

PROFESSIONAL PHOTOVOLTAIC SOFTWARES To download
INSEL
PV SOL (GE)
EASYSOLAR
- clear and detailed price quote section and financial analysis
- better cooperation between solar pros thanks to cloud technology and faster projects management
- fast preparation of the project, even in 5 minutes
- detailed customized proposals with company logo, colours and selected sections
PVscout 2.0 Premium
- solar irradiation data based on high-resolution mean minute values
- calculations of economic efficiency
- Individually compiled presentation of technical details, order, quotation, electrical circuit diagram, DC connection drawing, solar yield and economic efficiency
PVComplete
Price : 99 $/month or 999 $/year.
PVSYST (CH)
- Complet database of PV panels, inverters, meteorological data
- Useful 3D application to simulate near shadings
- Import of irradiation data from PVGIS, NASA databases
- Import of PV mules data from PHOTON INTERNATIONAL
- Economic evaluation and payback
- export of calculations to CSV files
- Many tools to simulate the behavior of PV modules and cells according to irradiation, temperature, shadings
POLYSUN (CH)
SOLARPRO
PLAN4SOLAR PV
SOLARIUS PV Free UPP (ACCA Software)
- solar panel shading analysis from a photo
- pv panels: automatic sizing and positioning
- PV inverter: auto sizing
- PV inverters: 3 phase inverters, single phase inverters, multi MPPT inverters)
PV F-CHART (USA)
HOMER 2 (USA)
PV-Design-PRO (GE)
PV Designer Solmetric
Archelios PRO (FR)
HELIOSCOPE
- One-Click Sharing
- SketchUp Shading Integration
- PAN File Support
- NSRDB/NREL Meteo Integration
HelioScope's design-integrated approach models an array based on its physical design. This leads to advanced modelling of system effects, and enables powerful design and scenario analysis.
For advanced shade calculations, import 3D obstruction models from Sketchup directly into HelioScope. Combine the power of Sketchup for 3D modeling with HelioScope's simulation engine.
HELIOSCOPE price : 99$/month
HELIOS 3D Solarparkplanung
Project Development : Analysis and evaluation of the terrain, rate of yield
Project Layout : Structuring of the terrain, positioning of PV racks, optimize positioning for maximum yield
Project Engineering : Electric layout, Bill of material, list of GPS coordinates, cable lists.
HELIOS 3D Solar Plant Layout price : 11800 EUR
SOLERGO (IT)
- Global and full system definition
- Shading (close and remote)
- Photovoltaic generator
- Inverter configuration
- Database (inverter, irradiation, pv modules)
- PV system layout
- Analysis of consumption
- Cable sizing calculation
- Electrical diagram
- Payback
- Polluting emissions
- Economic report
SKELION
Skelion plugin gives Sketchup the possibility to insert solar panels very fast and make fast renewable solar energy studies.
Includes shadows projection and MAC OS and Windows compatible.
Skelion for SketchUp allows you to :
Insert 3D models of the solar installation
Export energy reports automatically from PVWatts (in USA) or PVGis (in EU)
Use the PV Modules data base or add your own model
Control the shading angles for any hour of the year
Load the current location from Google Earth
مرسلة بواسطة

سالم بنموسى
في 11:20:00 ص
روابط هذه الرسالة